REGISTRATION IS OPEN

Spring 2011 Conference
Level 1 & 2 Practitioner Seminars, General, Nutrition & Science Sessions
Atlanta, GA
------------------------------
Save the date!
Fall 2011 Conference
Las Vegas, NV
Oct. 14-17

Want to see what happens at the Conference?
View free lectures from past conferences online - including the latest lectures from our Spring 2010 Conference in Baltimore

Great Rates at Renaissance Waverly

Conference sessions are set for the Renaissance Waverly Hotel. The Autism Research Institute has negotiated a block of special discounted room rates of $124 per night. Please register early to take advantage of this special rate.
Edgeware Gallery Sponsors New Art Show For Mark Rimland
Mark Rimland, son of ARI's founder and former director, Dr. Bernard Rimland, has a new art show at Edgeware Gallery. Many of the works have not been shown to the public before. Besides original art, Edgeware Gallery also sells Mark's book, The Secret Night World of Cats, as well as prints and note cards.
The Gallery's new hours are Monday through Friday, from 9 am to 5 pm, and on Saturday and Sunday, by appointment. For more information, visit www.EdgewareGallery.com or download Edgeware Gallery's apps available for iPhone, iTouch, and iPad, and for Android smart phones.
One-hundred percent of the net profits from the sale of the art work are donated to the Autism Research Institute.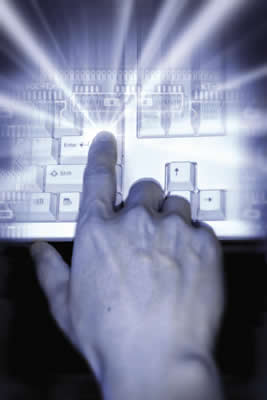 Free ARI Conference Webcasts online

At ARI, we are committed to free access to the latest information about evidence-based treatments for autism. We are pleased to announce that a selection of videos from our latest event - the Fall 2010 conference - is now streaming online.
View Free Fall 2010 Conference Webcasts
This convenient service allows anyone with Internet access to view up-to-date information for free. Tune in today to view or listen to scientific talks, presentations and panels by top experts from around the world.
We rely on the generosity of our donors to make this possible, and we hope you'll help support this service.
Our Partners

Autism-Friendly Portraits for Families in the SF Bay Area
Portrait taking for many families can be challenging, given the pressure of sitting still and the stress of flash photography. Cline Photography, located near the SF Bay area, is aware of the needs of individuals on the autism spectrum, and they will donate a portion of the sitting fee to the Autism Research Institute.

Social stories and videos will be available online to familiarize the entire family with the photo session. In addition, flash photography will not be used. The photo session can be conducted in the family's home. To reduce costs, several families can coordinate several photo sessions in a central place. If enough families are interested in this offer, Cline Photography is willing to travel to other parts of the country.

If you are interested and/or want to learn more, please write to Michael Cline at: michael@clinesphotography.com or call 510-881-3868. (Cline Photography is willing to work with other non-profit organizations throughout the country.)
Director's Note
Well, the weather reports continue to describe a rather rough winter for those of you living on the East Coast; I won't describe the beautiful weather this winter in San Diego.
We are sending out our best wishes to our families in Egypt. Our thoughts are with you.
Last month ARI sponsored its annual think tank in Dallas, Texas. Over 50 scientists and experienced clinicians met for three days to discuss research and treatment. As you might imagine, it was an incredible meeting.
As many of you know, ARI co-sponsored a GI (gastrointestinal) consensus report that was published in Pediatrics last year. We finished translating a Portuguese version of the report. Links to all of the translations, including Chinese, English, French, German, Italian, Japanese, Russian, and Spanish, are listed on ARI's homepage, www.autism.com.
Membership in the Global Autism Collaboration continues to grow at a steady pace. Since last October, 45 non-profit organizations have joined, and the applications of another six organizations are under review. About half of the organizations are located in the United States; the other half represent countries as diverse as Saudi Arabia, Mexico, Ghana, Chile, Nigeria, India, Australia, Italy, the United Kingdom, and many more.

Stay warm and keep dry.
Steve Edelson, PhD
Executive Director, Autism Research Institute
New Papers On Mitochondrial Dysfunction and ASD
Mitochondrial Dysfunction in Autism Spectrum Disorders: a Systematic Review and Meta-analysis

(ARI provided a portion of the funding for this study)
A comprehensive literature search was performed to collate evidence of mitochondrial dysfunction in autism spectrum disorders (ASDs) with two primary objectives. First, features of mitochondrial dysfunction in the general population of children with ASD were identified. Second, characteristics of mitochondrial dysfunction in children with ASD and concomitant mitochondrial disease (MD) were compared with published literature of two general populations: ASD children without MD, and non-ASD children with MD.
READ MORE
Hear Study Co-author Isaac Pessah at the ARI Conference May 1st
JAMA Study Strongly Implicates Mitochondrial Dysfunction in Autism
(Autism Research Review International, Vol. 24, No. 4)
In a landmark study published in the Journal of the American Medical Association, researchers reported that children with autism exhibit strong evidence of mitochondrial dysfunction and changes in mitochondrial DNA.
Mitochondria are the "power plants" of cells, producing the energy used for cellular activity. Proper mitochondrial function is especially crucial to brain function, because the brain uses large amounts of energy. Several studies have pointed to mitochondrial dysfunction as a factor in autism, and it is tentatively linked to other disorders including schizophrenia and Alzheimer's disease.
To investigate the possibility that mitochondrial dysfunction plays a role in autism, Cecilia Giulivi and colleagues studied 10 children with autism and 10 age-matched nondisabled children. All of the children were between two and five years of age.
At our Spring Conference in Atlanta, parents, practitioners and researchers will have the opportunity to hear from leaders in the field of mitochondrial research related to ASD, paired with diet and medical sessions including information about how to recognize and address the co-morbid issues triggered by mitochondrial dysfunction.
Dr. Judy Van de Water has designed an integrated session on the relationship between mitochondrial function, immune function, and oxidative stress for the Spring Conference in Atlanta, featuring:
Hear Dr. James
ARI Co-Director of Science, Jill James, PhD
Dr. James is a Professor in the Department of Pediatrics, Section of Developmental Disabilities, and the Director of the Metabolic Genomics Laboratory at the Arkansas Children's Hospital Research Institute. She has published over 130 peer-reviewed papers and recently received the American Society for Nutritional Sciences award for innovative research contributing to the understanding of human nutrition. She is currently funded by a 5-year NIH grant entitled "Metabolic biomarkers of autism: predictive potential and genetic susceptibility," a grant for the Department of Defense entitled "Autism as a vulnerability phenotype," and a grant from Autism Speaks for the Arkansas Autism Treatment Network. She serves as co-chair for the Autism Research Institute Scientific Advisory Panel.
Robert Naviaux, MD, PhD
Dr. Naviaux is Professor of Genetics in the Departments of Medicine, Pediatrics, and Pathology at the University of California, San Diego (UCSD). He is the founder and co-director of the Mitochondrial and Metabolic Disease Center (MMDC) at UCSD. He is the cofounder, and former President of the Mitochondrial Medicine Society (MMS). Dr. Naviaux is the discoverer of the genetic basis of the oldest Mendelian form of mitochondrial disease, Alpers Syndrome; his research spans 30 years and embraces the fields of genetics, virology, cancer immunology, mitochondrial medicine, neuroscience, development, metabolism, marine metagenomics, and evolutionary systems dynamics.
Judy Van de Water, PhD
Dr. Van de Water joined the faculty of the M.I.N.D. (Medical Investigations of Neurodevelopmental Disorders) Institute in 2000, when she began her research on the immunobiology of autism. She has been continuously funded by the National Institutes of Health for more than fifteen years, and is currently part of the NIEHS-funded Center for Children's Environmental Health as the principal investigator of the Immunological Susceptibility in Autism project. She is also part of a project funded by NIMH to examine for early biomarkers in the plasma of mothers whose children have autism.
Financial Assistance: Angel Funds, Volunteer Slots, Online Discounts, And More
We are very pleased to announce that the Spring Conference in Atlanta, Georgia April 28-May 1 will offer a variety of financial support options for families, including: Early-Bird Rates, free attendance for volunteers on days they help, and Angel Fund discounts for families in financial need. Angel funds and volunteer options are limited and offered on a first-come/first-served basis. See Parent Rates for details.

We also have a limited number of volunteer slots for licensed health care providers in our demonstration room, teaching hands-on support in exchange for free admission and CME at the Saturday and Sunday Science sessions. Email Us for more information.
Register Online today - you won't want to miss this chance to explore the latest research and treatment findings.
Experience hands-on support for taking a biomedical approach home
Network with parents and clinicians
Earn CME credits attending our Practitioner Seminars and Science Sessions (licensed medical providers)

Puzzle Pieces to Support Research
Updates from Campaign Coordinator Lynda Huggins
Many thanks go to those who directed their end-of-the-year charitable gifts to the Autism Puzzle Pieces Project. Those donations brought our total to a fantastic $118,926.55! If we ALL worked together this year we could cover the U.S. with puzzle pieces during National Autism Awareness Month and easily match that amount. Let's see if we can get the puzzle pieces in every state during April! Every effort, no matter how small, puts us closer to our goal of a Million Dollars for Autism Research. If we don't fund the research, who will?

Now is the time to approach local businesses and ask that they support a puzzle pieces campaign during April. Contact the Principal of your child's school and request a school-wide puzzle campaign to increase awareness and understanding of autism. A business that might not be able to distribute the puzzle pieces could sponsor a school campaign with the donation of a prize. Join with other parents and obtain permission to distribute the puzzle pieces outside your local grocery store, Wal-Mart, etc. Kids can go door-to-door in your neighborhood seeking donations. There are so many ways to participate. I hope you will decide to become a part of this very important all-volunteer effort to help our kids. Every penny raised goes directly to the Autism Research Institute.
All my best,
Lynda Huggins
24 Karen Lane
Monroe, LA 71203

Events in the Community ...
Spring 2011 ARI Conference
DATES: April 28-May 1
LOCATION: Renaissance Waverly Hotel - Atlanta, GA

Follow the latest science on evidence-based medical treatments for ASD. Level 1 & 2 Practitioner Seminars, Parent, Diet, Adult, & Science Sessions
New Sessions inlcude: diet and adult tracks and information concerning sensory and behavioral interventions.
Parent/Caregiver Rates
Practitioner Rates
----------------------------------------------------------------------------------------
Law Enforcement / First Responder Training
Bill Cannata and Dennis Debbau
DATE: 9 a.m. to 1 p.m., March 4, 2011
LOCATION: Police and Fire Training Academy at 1770 Shopton Road, Charlotte, N.C. 28217

This free training is sponsored by the Autism Research Institute, the Autism Society of North Carolina and the North Carolina Office of the State Fire Marshall. Trainers will include Dennis Debbaudt of Autism Risk Management, Captain Bill Cannata of ALEC in Massachusetts, and Judge Kimberly Taylor from North Carolina. This training is open to all interested. Note: hotel options are very limited near the conference site - if you require accommodations, organizers suggest booking as soon as possible. Booking north or south of Charlotte may be required.

For additional information contact Kimberly S. Taylor at Kimbyrd@msn.com, or Dennis Debbaudt at ddpi@flash.net.

View and print the event flyer
Watch the Law Enforcement/First Responder Training promo

----------------------------------------------------------------------------------------

All Together for Autism Run

DATE: Registration 7:30-9 a.m., April 9, 2011 - running events start at 10 a.m.

LOCATION: Meadow Breeze Park, Washington Township, NJ

Events include 5K Run/Walk and 1 Mile Family Fun Walk, vendor booths, facepainting and more. A portion of the proceeds will benefit Autism Research Institute.
Printable Flyer and Registration form
----------------------------------------------------------------------------------------

AutismOne & Generation Rescue Present:|

Autism Redefined - Recovery on a Budget
Location:
Westin Lombard Yorktown Center, 70 Yorktown Ctr., Lombard, IL
Free Registration starts soon
More Information
----------------------------------------------------------------------------------------

Your Healing Retreat

Practical Solutions for Families and Primary Care Providers Dealing with Autism Spectrum Disorders, Learning and Attention Problems
DATES: June 3-5

LOCATION: Kanuga Retreat Center in Hendersonville, NC
An integrative approach for families and primary care providers dealing with autism, learning and attention disorders.