UPCOMING EVENTS
Spring 2010 Conference
Level 1 & 2 Clinician Seminars, Nutrition Seminar, Parent, & Science Sessions
Baltimore, MD

Fall 2010 Conference
Level 1 & 2 Clinician Seminars, Nutrition Seminar, Parent, & Science Sessions
Long Beach, CA
Oct. 7-10, 2010
Baltimore Updates - Alternate Hotel Info

Rooms are sold out at the Baltimore Marriott Waterfront for this weekend's conference.
Alternate Hotel:
Baltimore Courtyard by Marriott
1000 Aliceanna Street
Baltimore, Maryland 21202 USA
Phone: 1-443-923-4000
Toll-free: 1-443-923-4000
San Diego Area Authors To Offer Book Signing in Late April to Benefit ARI


WHEN: 4-7 p.m. April 26
WHERE: The Poseidon on the Beach - 1670 Coast Blvd., Del Mar 92014 - (858) 755-9345

Come join us for a fun, relaxing time in Del Mar at the lovely Poseidon Restaurant to raise funds and awareness for Autism Awareness Month benefitting ARI and TACA.
Three local authors will be signing books:
Chantal Sicile-Kira will be signing her latest book, 41 Things to Know About Autism
Debra Ginsberg will be signing Raising Blaze: A Mother and Son's Long, Strange Journey with Autism
Blaze Ginsberg will be signing Episodes: My Life as I See It
Poseidon owner Tom Ranglas and The Book Works Del Mar owner Lisa Stefanacci will donate a portion of the proceeds from bar and book sales to ARI and TACA
ARI thanks these authors and businesses for their generous support
Make a Monthly Pledge to Support Research
ARI's secure
online donation form
is a convenient way to support our research - and now you can pledge any amount and make payments in installments for as long as you wish.
For example: you could pledge $120 for the year, and pay just $10 a month.
Pledge to pay monthly with your credit card (or by automatic withdrawal from your bank account if preferred), and we'll take care of it for you through our secure online merchant account.
ARI ofrece linea de apoyo en Español
(ARI offers toll-free Spanish-speaking support line)
Con frecuencia escuchamos: "He oído algunas cosas sobre la dieta y tratamientos biomédicos pero no sabia a donde llamar. Desearía haberla encontrado antes y haber ayudado a mi hijo".

ARI ofrece ahora una línea telefónica gratuita bajo la dirección de Kerri Rivera, madre de Patrick - ASD de 8 años, y directora de la clinica/hospital Autism02.
Llaman reciben información, contactos y acceso a los recursos disponibles a través del Instituto de Investigación de Autismo (ARI).
Los padres y los cuidadores son animados a llamar para obtener más información de ARI y más allá. Todo con el objetivo de ayudar a los padres ¡Derrota al Autismo Ahora! (DAN!)
Centro de llamadas de Autismo ARI: 877-644-1184 ext. 5
Autism Seizure-Treatment Survey Continues: Parents Urged to Provide Data
Survey aims to assess treatment efficacy and possible side effects
You can help advance research by filling out a survey form designed by Prof. James Adams, Co-Chair of ARI's Scientific Advisory Panel, and Dr. Richard Frye. This very detailed form will provide a deeper understanding of the efficacy and the possible side effects of seizure treatments.
Complete the Seizure Treatment Survey Online
Treatment Ratings

Our Partners
About the ARI
E-Newsletter
:
This newsletter is compiled, written, and edited by ARI parents, and we welcome your input. If you have questions you would like answered, a story you would like to submit, or an idea for something you would like to see discussed or explained, please
contact us
.
Contributing Editors:
Jane Johnson

Dave Gillerman
Stephen Edelson, Ph.D.
Technical Support:
Denise Fulton
Additional Assistance:
ARI maintains a toll-free line with information, contacts, and access to resources available through the Autism Research Institute.
English: 866.366.3361
Español: 877-644-1184,
ext 5

From the Director:
Spring is finally here, and ARI's staff is quite busy preparing for the big ARI/Defeat Autism Now! conference later this week in Baltimore. This will be our first conference in the beautiful city of Baltimore, and a return to the great northeast after two years.
For those who have visited the Autism Research Institute in person, you will be pleasantly surprised to learn that we finally replaced the 30+ year old carpet, and repainted the walls. (We hope to tackle the leaky roof later this year.
)
Last Saturday ARI premiered a weekly supplement e-newsletter as part of the popular Schafer Autism Report (SAR) e-newsletter. I would like to thank Lenny Schafer for the opportunity to share ARI's initiatives and programs with SAR's readership. Lenny was a very close friend of Dr. Bernard Rimland, and I very much appreciate his continued support of our efforts.
Throughout the month of April, 50 percent of the proceeds from the sales at Edgeware Gallery will be donated to Haitian and Chilean earthquake relief efforts. The Autism Research Institute sponsors the Edgeware Gallery, and Mark Rimland is the resident artist. If you live in southern California, we invite you to visit the gallery. In addition, you can meet Mark in person on Saturday and Sunday, between 1:30 p.m. and 4 p.m.
I would like to continue to thank families for emailing their son's or daughter's photos to us. We have been uploading them to a digital photo frame located in our office, and these photos are true inspirations to us. You can send a photo to our office at:
OurPhotos@autism.com
. The size of the photo file should not exceed 2 megabytes, and it needs to be either a .jpg or a .gif file. Please note: the photo frame does not read text.
Steve Edelson, Ph.D.
Director, Autism Research Institute
Mind/Body Techniques Open Promising Pathways for Individuals with Asperger's

Martial Arts Expert Ron Rubio's new book offers tips for improving body awareness, coordination, and balance
What do you get if you cross martial arts with zen philosophy with elements of dance training? Odds are your first guess wouldn't be "a novel form of therapy for Asperger's Syndrome."
Yet these unlikely ingredients are exactly what Ron Rubio combines in his approach to mentoring individuals with Asperger's. As Ron explains in his recent book,
Mind/Body Techniques for Asperger's Syndrome: The Way of the Pathfinder
, almost all of his Asperger's clients have issues with body awareness, coordination, and balance. Naturally, such limitations affect confidence and self-esteem. Ron, who suspects he is an Aspie himself and is scheduled to be tested, had many of these same body issues growing up. "I was awkward, I didn't know how to move, but dance saved me - I studied with Alvin Ailey, and dance taught me discipline ... it taught me how to move into a room and capture the attention of everyone in the room."
Ron communicates this heightened sense of body awareness to his clients, which results in changes to their posture and their gait, and combined with a large dose of philosophy that he imparts, it also improves their self-confidence.
"For me, the mind/body connection is sacred -- it's an anchor that enables them to feel grounded, and it creates a strong sense of self-assurance. I have a 4th-degree black belt in aikido, I've studied and practiced martial arts for over twenty-five years, and the whole idea of warriorship, which conveys the whole idea of mind/body oneness, is also sacred to me."
Ron explains that because most of his clients grew up playing some form of video games involving combat, they are very receptive to learning the traditions of real warriorship via aikido. They learn the rituals including (wooden) sword training to improve coordination, cleansing breathing exercises to improve concentration, and classic aikido movements to promote fearlessness. Such exercises as "Eye of the Hurricane," are favorites with his AS and ASD students. "The ability to remain calm in the middle of surrounding chaos is a skill that the students crave" says Ron, "and largely focuses on learning to breathe and stay in the present moment."
Interwoven throughout the exercises is an awareness of both concentration and energy. "I am a conduit of energy" Ron explains. "I feel inspired by something greater."


As a mentor, Ron establishes a special relationship with the kids and young adults that goes beyond merely teaching them techniques. "I take an active interest in their life. I advocate for them. When I advocate for them in within a school district, I'm like a mentor of old - almost like a bodyguard...I feel protective of my clients, and they trust me... It makes me feel good to be a part of their lives and watch them grow and mature, knowing that I've helped them develop more confidence."
Ron works with clients between 8 and 35 in Woodstock, NY, Eugene, OR, and will soon be working with clients in La Jolla, CA.
Learn More
Parent Connection: Support & Fun on the Baltimore Conference Agenda This Weekend
Free Evening Workshops
Join us Thursday and Friday (April 8 & 9th) for our Evening Workshops - options include lectures for parents, caregivers, and clinicians. Workshops both evenings are free - please feel free to bring a friend, colleague or fellow parent to learn about the latest research and effective treatments. If you aren't registered but live in the Baltimore area, we hope you'll join us. View Evening Workshops Aready registered and want to add a workshop? Use the link in your registration confirmation to add these free events.
Saturday Night Auction Gala at the Marriott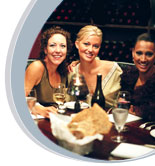 The Saturday Gala is always a favorite, providing everyone time to come together in a relaxed setting for an opportunity to connect with other parents, medical professionals, and specialists from around the world.

Following a sit-down dinner, we'll kick off our benefit auction with opportunities to bid on wonderful donated items - all proceeds benefit the Autism Research Institute. Come surround yourself with people who share your experience in a light, enjoyable atmosphere. Seating is limited, reserve your seat when you register on site. On-site Registration opens at 7 a.m. Thursday April 8th.
Try Your Hand at the Biomedical Approach in our "Demo Room"
T

aking a page from Biology 101, ARI offers its on-site "lab," teaching practical skills for taking the biomedical approach home. The "Demonstration Room" will be offered during breaks and lunchtime on Friday, Saturday, and Sunday at the Spring Conference in Baltimore. The ARI/Defeat Autism Now! Conference offers parents effective strategies for helping their children, serving as a meeting ground for clinicians using a biomedical approach and the parents who seek their aid. Still, for many of us, returning to what is in effect a biology/chemistry class presents a challenging learning curve. While lectures are essential to our understanding, the information is only as effective as the hands that are charged with putting these treatments into effect.
Don't miss this chance to stop by for free one-to-one tutorials
by experienced healthcare professionals and experienced parents. Topics include administering B-12 injections, scheduling supplements, tracking treatment success, teaching pill-swallowing, and more. The "Demo Room" is free with your paid registration.
Questions?
Or are you a medical professional who wants to volunteer in exchange for free admission?
Email Us
New to the biomedical approach? Meet a parent mentor
For many families new to the autism diagnosis or starting the biomedical approach, finding a parent mentor can help ease the frustration, help to navigate the confusing "system," and help jump-start the family with ACTION for their child affected by autism.

Our friends at Talk About Curing Autism have a key focus on building the autism community and helping families affected by autism. They have generously offered to connect parents, with a chance to meet a TACA Parent Mentor at the conference.



Want to meet a mentor? Stop by the TACA booth in the Dover Room at the conference.

New 'Sensory Room' Offered at the Spring Conference


To ensure registrants have the opportunity to attend the full conference, we will offer a 'sensory room' in Baltimore with presentations from the General and Science Sessions so that sensitive individuals and parents/caregivers accompanied by dependents have the option of stepping out of the main conference hall if needed, while still attending the lectures and participating in the conference.




ARI/Defeat Autism Now! does not provide childcare at the conference.



Want to see what the Conference is like?
View free lectures from past conferences online.

April is Autism Awareness Month: Sell Puzzle Pieces for ARI
Join our Million Dollar Puzzle Campaign
April is a fantastic time to distribute the Autism Puzzle Pieces. Seems like everyone is more aware of autism because they have seen it in the news and most folks know of a child with autism. If you have a friend or family member who is connected to a business or corporation, they know your child and could help you get the puzzle pieces distributed.
Business with lots of traffic (quick stop, beauty shop, etc.) can display the puzzle pieces and that encourages others to give a buck when they check out. We have had several corporations host company-wide campaigns, some offering a "casual day" for a donation. Schools have built puzzles in their halls. Professional organizations have adopted Autism Research as their philanthropy and sold puzzle pieces at their conferences.
There are so many ways to get the puzzle pieces out there.
Although April is especially fitting, the Puzzle Pieces Campaign is a year round project. There is no time limit on distributing the puzzle pieces. Every penny of every dollar raised goes to the Autism Research Institute to fund the research we all want. Since we began this grassroots effort we have distributed 212,950 puzzle pieces. We are in 48 states plus Puerto Rico, Oslo Norway, Singapore, Hagatna Guam, Barcelona Spain & 6 locations in Canada - Westmount QC, Brandon MB, Prince Albert SK, Saskatoon SK, Westmount QC, Calgary, Alberta (548 cities). We have forwarded $90,634.64 to ARI. If everyone who cares about an individual with autism gave a dollar, we could easily and quickly reach our goal of a Million Dollars for Autism Research!
Together we can fund the research our government deems unworthy of funding. Remember this is an all-volunteer effort and every penny of every dollar raised goes directly to ARI, specifically for research.
- Lynda Huggins
mother of Jon, age 34
Puzzle Piece Success Story
I am a family doctor with a 17 y/o daughter who I recovered from Asperger's (that is no autism symptoms and no special diet needed anymore) about 3 years ago (we started at age 7). Nearly 8 years ago I opened my practice to individuals with autism spectrum disorders who wanted to use biomedical methods to improve the autism symptoms. I have treated over 500 kids and about 30 have completely recovered, with many more well on the way. I practice with three other traditional family docs and I see kids on the spectrum two days a week and my typical family practice patients two days a week. My partners are very supportive, but do not care for autism in this way. When I was at the DAN! conference in Boston, I learned about the puzzle piece fundraiser and brought it back home to Indianapolis. Our checkout person has the puzzle pieces next to her, and patients who want to, buy them and write their name on the puzzle piece. We have pasted the pieces on the hallway in our office, as you could see. At times we have had anonymous donors--once we found a $100 bill folded up and left for ARI! Our patients, even those who have no connection to autism, have been very supportive of raising money for research.

Mary Lou Hulseman, MD
Indianapolis, IN
Events in the Community ...
Spring 2010 ARI/Defeat Autism Now! Conference
Level 1 & 2 Clinician Seminars, Nutrition Seminar,
Parent & Science Sessions
Baltimore, MD | April 8-11, 2010
Fall 2010 ARI/Defeat Autism Now! Conference

Level 1 & 2 Clinician Seminars, Nutrition Seminar,
Parent & Science Sessions
Long Beach, CA | Oct. 7-10, 2010

---------------------------------------------------------------
AutismOne & Generation Rescue Present:
Autism Redefined
Daily, Monday, May 24 - Sunday, May 30
Westin O'Hare Hotel
6100 North River Road, Rosemont, IL 60018
Highlights include:
More than 150 speakers; 7 days of presentations, seminars, think tanks, and professional training
6 tracks offering specific answers to help children and families immediately
Jenny McCarthy Keynote
Elizabeth Birt Center for Autism Law & Advocacy Legal Training
American Human Rights Rally
Student Scholars for Autism Program
Lecture Schedule
Register Online